Homebrewer's Showcase ...with Paul Keefer
Homebrewer's Showcase ...with Paul Keefer
Welcome to Homebrewer's Showcase, where Oak Barrel staff members collaborate with gifted brewers to spread knowledge and consume tasty beverages!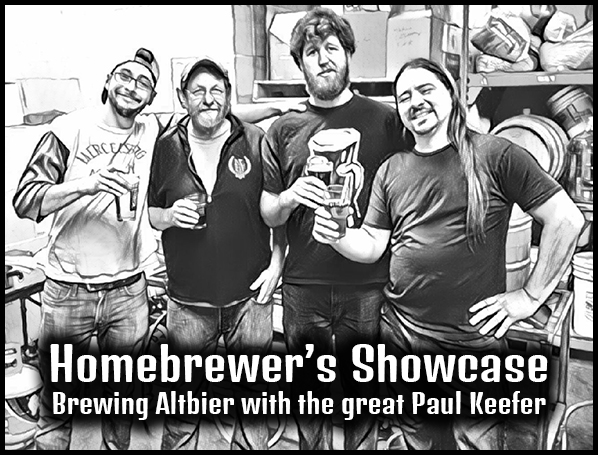 -
Paul Keefer has been gracing the west coast with his brewing prowess for over 40 years. Brewing judge, event coordinator, club president, and Brewer Extraordinaire...we couldn't wait to get together.
Brewing the Altbier was a real treat. We learned more about step-mashing, tried out some new methods using in-line thermometers and, between our different methods, managed an astounding (frankly, ridiculous) mash efficiency of 95%. Scroll to the bottom of this page to see the recipe.
And now, for the Q&A portion of Homebrewer's Showcase:
Q: How did you first get involved in Home Brewing?
A: My brother took an upper level chemistry class called " Chemistry of Winemaking " in college. One of
the lab sessions involved making beer using a lot of sugar as an adjunct. I helped my brother making the
one batch he did for the class. Being an impoverished art school student, I thought making beer for
Christmas presents with hand silk screened labels would be a cheap gift that people might appreciate. I
borrowed my brother's recipe and course guide book and started brewing. The result was pretty good
so I made another batch.
That's how it started….
Q: Being a long time local Home Brewer, how has the Home Brewing scene changed since you first
started?
A: Almost everything has changed. Home brewing was illegal. Hops came in a pink cardboard box
labeled " Hops ". Sanitizer was chlorine bleach. There were two types of yeast available : lager and ale.
Both came in a foil pack and I couldn't tell the difference in how they fermented or in flavors they
produced. There were only a few grains available, which didn't matter since I was an extract brewer. The
only books available were professional brewers texts and Fred Eckhardt's " A Treatise on Lager Beer"
and a bit later Byron Burch's "Brewing Quality Beer".
Q: What is your favorite beer to brew?
A: I like making beers that are hard to find or expensive or both. Belgian styles, sour beers, and historical
styles. I rarely make pale ale or IPA. There are just too many good examples available commercially.
Q: What are some of your awards and achievements?
I've won a lot of awards over the years but don't consider winning that important. I enter comps for judge feedback.
Q: What is the best piece of advice you've heard which improved the quality of your beer?
A: Becoming a BJCP judge and joining a homebrewing club really improved my brewing skills.
Q: Why did you choose an Alt for your Home Brewer Showcase?
A: It's a great tasting easy drinking session beer. Also, it's hard to find a good example unless you go to
Germany or Portland. Widmer makes a great Alt but they only serve it at their pub. Düsseldorf is a long
way to go for a beer.
Q: You've been a BJCP certified Judge for some time, any advice to someone who wants to judge in
competition?
A: I'd recommend familiarizing yourself with the BJCP guidelines and trying as many commercial
examples of the various styles as you can put your hands on. A BJCP study group is a good way to do
that. And sign up to judge at as many competitions as you have time for. Novice judges are always
paired with experienced BJCP judges. That's a great way to learn the vocabulary and how to recognize
various beer characteristics.
I've been a BJCP judge since 1998 and a National since 2012. It was a difficult test but well worth taking the second time.
Q: The beer scene in the Bay Area has gone through many booms over the years, did you ever think it
would get this big when you started brewing?
A: There was no beer scene when I started brewing. The only "craft " beer around was Anchor and it was
hard to find in Portland. Rainier Green Death was the most readily available beer that actually had some
flavor.
Q: You're also very involved in local Home Brew clubs and competitions, what inspired you to get so
involved?
A: My next door neighbor talked me into entering the first Marin County fair home brewing competition.
I won Best of Show with a winter spice beer. The president of the club sponsoring the competition told
me I couldn't win if I wasn't in their club. One thing led to another and eventually I ended up running
that comp for my club.
Q. You're a member of multiple clubs, correct?
A. I'm a member of BAM and HOME. HOME isn't much of a club any longer. I think the only organized thing we do as a club is NCHF.
I'm on the board of directors for NCHF as registrar and have been for last 10 years.
Paul Hsi is responsible for my being a member of BAM. In 2004 or 5 I was signed up to judge State Comp at Stern Grove. I showed up and was told I wasn't needed. That put me in a foul mood after driving to San Francisco from Oakland on a
Saturday
morning. The organizer said I was welcome to help the Cellarmaster - Paul Hsi . During the cellar job, Paul asked if I'd be willing to be judge coordinator for World Cup the next year and, in a moment of weakness or insanity , I said yes. You know the rest as far as BAM goes. I've been in BAM since.
I think the best thing I ever did was joining a Homebrew club. I've made a lot of friends and met some amazing people who would all be strangers if not for that one connection .
That's my story and I'm sticking to it.
Q: Brewing styles have changed a lot over the last couple decades, do you have any styles you wished
had caught on for longer?
A: American brown ale. At one time Pete's Wicked ale was the number one craft beer around and every
small brewery made an American brown. Pete's doesn't exist any longer and almost nobody makes an
interesting brown ale.
Q: Home Brewers are in the unique position to sometimes be able to experiment a lot more than
commercial breweries, what's the most unique beer you've ever brewed or tried?
A: A sour mash Kentucky Common aged in a Bourbon barrel. That was a fun project.
Q: What are your hopes for beer, and the brewing scene, for the future?
A: I'd like to see more breweries making German style beers. Particularly Weizen….
Mr. Keefer, that sounds like a challenge!
------------------------------------------------------------------------------------
Here is the recipe we brewed, converted to 5 gallons:
Altbier
OG: 1.052
ABV: 5.5%
IBU: 46
Mash: (75% efficiency)
4.25# German Pilsner Malt
4.25# German Munich Malt
0.75# Melanoidin
3 oz. Carafa II
Boil 90 minutes total
1.25 oz Northern Brewer 7.3%AA @ 60 min (38 IBUs)
0.35 oz Northern Brewer 7.3%AA @ 30 min (8 IBUs)
Step Mash: (Paul says a single infusion a mash temp of 149 would work out fine.)
117°F for 20 minutes (protein rest)
148°F for 40 minutes (beta-amylase)
158°F for 10 minutes (alpha-amylase)
168°F for 10 minutes (mashout)
Wyeast 1007 German Ale Yeast
Ferment at 58°F with a proper diacetyl rest at the end
Rack to secondary and cold condition for a month or more until it is ready
Carbonate to 2.5 volumes of co2 and enjoy!